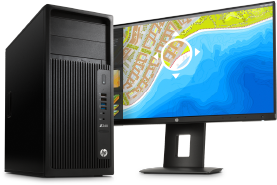 HP Z240 Tower Workstation
Delivers reliability and advanced performance with up to 4.5 GHz of processing power.
Conquer your workloads with its powerful processors, graphics, memory, and two optional ultra-fast HP Z Turbo Drives.
HP reliability, thorough testing, and ISV certification means the HP Z240 Tower Workstation is designed as a long-term budget friendly solution, it is HP's most affordable workstation.
The HP Z240 Tower Workstation has various slots and ports to support your workload and increase productivity.